In stock
Powermax 30 AIR plasma system Hypertherm
Despite its small size, the Powermax30® AIR delivers big performance. This small air plasma cutter — the smallest, lightest handheld plasma cutter in its class — includes its own built-in air compressor. That's right, it's a small plasma cutter with a built-in compressor so you can use the Powermax30 AIR anywhere there's single-phase power. Just plug it in, attach the work clamp and you're ready to cut. It's even dual-voltage. You can use it as a 120 V plasma cutter or at 240 V. Regardless of which power input (120 V or 240 V) you choose, we think you'll agree the Powermax30 AIR is the best plasma cutter with built-in compressor available today.
Benefits

Specifications

Cut capacity

Resources
Benefits
Easy to set up and operate
Internal compressor eliminates the need for an external air compressor and filter
Plug into any 120 or 240 V power (convenient Auto-Voltage™ technology and plug adapters included)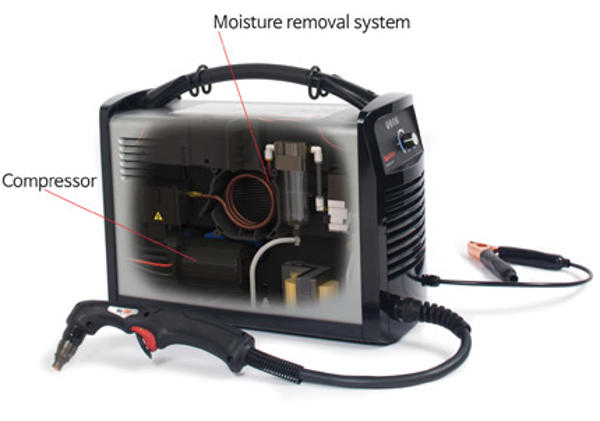 ---
Superior performance in a compact package
Patent-pending consumable design enables consistent cutting by optimizing the airflow from the compact, internal compressor
Quickly cut metal grate or rusted metal without retriggering with the continuous pilot arc feature
Fast cutting speeds and superior cut quality let you finish jobs quicker, with fewer secondary operations
Relative cut performance on mild steel (chart)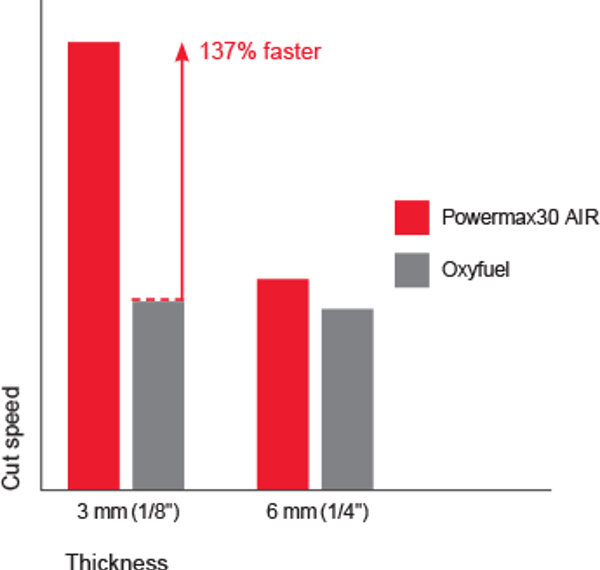 ---
Exceptional versatility
Just one tool is all you need to cut a variety of metal types and thicknesses
Small size and light weight let you take the Powermax30 AIR to the work, rather than bringing the work to the system – an ideal solution for a wide range of cutting applications
Built to withstand heavy-duty use in the most demanding environments
Specifications
Input voltages
120-240 V, 1-PH, 50/60 Hz
Input current @ 2.5 kW
120-240 V, 1-PH, 29-15 A
Output current
15-30 A
Rated output voltage
83 VDC
Duty cycle @ 40°C (104°F)
35%, 240 V
20%, 120 V
Open circuit voltage (OCV)
256 VDC
Dimensions with handles
420 mm (16.5″) D; 195 mm (7.7″) W; 333 mm (13.1″) H
Weight w/ 4,5 m (15′) torch
13.5 kg (29.8 lbs)
Input power cable length
3 m (10′)
Power supply type
Inverter – IGBT
Engine drive requirement
5.5 kW for full 30 A output
Certifications
CSA-certified for use in the Americas and Asia, except China CE, C-Tick, CU/GOST, Ukr, and Serbian — for use in Europe, Australia, Belarus, Kazakhstan, Russia, Serbia, Ukraine, and other countries where accepted.
Warranty
Power supplies have a 3-year warranty and torches a 1-year warranty.
Cut capacity
Capacity
Thickness
Cut speed
Cutting
Recommended
8 mm (5/16″)
500 mm/min (20 ipm)
10 mm (3/8″)
250 mm/min (10 ipm)
Severance
16 mm (5/8″)
125 mm/min (5 ipm)
Cutting with 120 V input power
The maximum recommended output of 20 A, the cut capacities are:
3 mm (10 gauge) at 762 mm/min (30 ipm)
6 mm (1/4″) at 355 mm/min (14 ipm)
10 mm (3/8″) at 125 mm/min (5 ipm)