In stock
Powermax125 plasma system Hypertherm
Delivering maximum power and performance for air plasma, the Powermax125® plasma system cuts thick metals fast. Able to make short work of the toughest cutting and gouging jobs, the system offers a 100% duty cycle, a 25 mm (1″) mechanized pierce capability, and fast gouging metal removal. It also gives you the latest technological innovations, such as Smart Sense™ technology to automatically adjust the gas pressure. Eleven Duramax® Hyamp™ torch styles provide versatility for hand cutting, portable automation, X-Y table cutting, extended reach cutting, and robotic cutting and gouging.
Benefits

Specifications

Engine-driven generator operation

Capacity

Resources
Benefits
Maximum productivity
Finish jobs faster with cut speeds five times greater than oxyfuel on 12 mm (1/2") mild steel
Superior cut and gouge quality let you spend less time on grinding and edge preparation
100% duty cycle maximizes your cutting time
Multiple, easy-to-use torch styles let you tackle a wide variety of jobs using the same system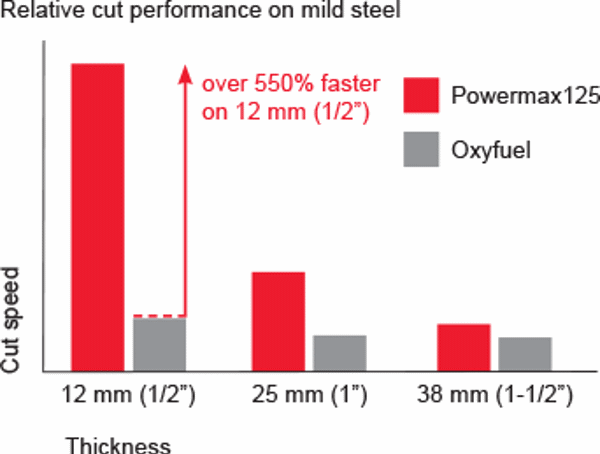 ---
Easy-to-use for cutting and gouging
No need to change the air pressure – Smart Sense™ technology ensures that it is always correctly set
SpringStart™ technology ensures consistent starting and a more reliable torch
Drag cut at full output with a patented shield that reduces dross buildup for smoother cutting
---
Lower operating costs
Consumable life up to four times longer than other systems in this amperage range
Electrode end-of-life detection protects the torch and workpiece from damage by automatically stopping power when the electrode is overused
---
Built to handle tough jobs
Hypertherm Certified™ reliability ensures peak performance even in the harshest environments
Duramax Hyamp torches are designed for high-impact and heat resistance
Specifications
Input voltages
CSA
480/600 V, 3-PH, 50/60 Hz
CE
400 V, 3-PH, 50/60 Hz
CCC
380 V, 3-PH, 50/60 Hz
Input current @ 21.9 kW
300/400/480/600 V, 38/36/31/24 A
Output current
30–125 A
Rated output voltage
175 VDC
Duty cycle @ 40° C (104° F)
100% @ 125 A
Open circuit voltage (OCV)

400/600 CSA: 320 VDC
380 V CCC: 290 VDC
400 V CE: 305 VDC

Dimensions with handles
592 mm D; 274 mm W; 508 mm H (23.3″ D; 10.8″ W; 20.0″ H)
Weight with 7.6 m (25′) torch

480 V, 47,9 kg (105.7 lbs.)
600 V, 47,5 kg (104.7 lbs.)
380 V, 45,2 kg (99.6 lbs.)
400 V, 48,9 kg (107.8 lbs.)

Gas supply
Clean, dry, oil-free air or nitrogen
Recommended gas inlet
flow rate/pressure
Cutting: 260 l/min (550 scfh) @ 5.9 bar (85 psi)
Gouging: 212 l/min (450 scfh) @ 4.1 bar (60 psi)
Input power cable length
3 m (10′)*
Power supply type
Inverter – IGBT
Engine drive requirement
40 kW for full 125 A output
Certifications
CSA-certified for use in the Americas and Asia, except China.
CE, C-Tick, CU/GOST, Ukr, and Serbian – for use in Europe, Australia, Belarus, Kazakhstan, Russia, Serbia, Ukraine, and other countries where accepted.
CCC for use in China.
Warranty
Power supplies have a 3-year warranty and torches a 1-year warranty.
*No power cord on some CCC models.
Engine-driven generator operation
| Engine drive rating | System output current | Performance (arc stretch) |
| --- | --- | --- |
| 40 kW | 125 A | Full |
| 30 kW | 125 A | Limited |
| 30 kW | 100 A | Full |
| 25 kW | 100 A | Limited |
| 22.5 kW | 75 A | Full |
| 20 kW | 75 A | Limited |
| 20 kW | 60 A | Full |
| 15 kW | 60 A | Limited |
| 12 kW | 40 A | Full |
| 10 kW | 40 A | Limited |
| 10 kW | 30 A | Full |
| 8 kW | 30 A | Limited |
Capacity
Capacity
Thickness
Cut speed
Cutting
Recommended
38 mm (1-1/2″)
457 mm/min (18 ipm)
44 mm (1-3/4″)
250 mm/min (10 ipm)
Severance (hand cutting)
57 mm (2-1/4″)
125 mm/min (5 ipm)
Pierce *
25 mm (1″)
* Pierce rating for handheld use or with automatic torch height control
Capacity
Metal removal rate
Groove profile
Gouging
Typical gouge
12,52 kg/hr
(27.6 lbs./hr)
4,3 mm – 7,9 mm D x 6,1 mm – 9,9 mm W
(0.17-0.31″ D x 0.24-0.39″ W)