In stock
Sensor torch height control Hypertherm
Specifically designed to integrate with Hypertherm's CNC solutions, the Sensor® torch height control (THC) is a full-featured torch height control system that can significantly increase the productivity and profitability of your shape cutting operation.
The easy-to-use, easy-to-install unit offers integrated CNC software features and closed loop servo control, as well as the latest advances in system integration and hardware reliability.
Benefits

Simple, reliable operation

High-performance features

Higher productivity

Lower operating costs

Improved cut quality and consumable life

Specifications

Resources
Benefits
Sensor THC is a torch height control system which is integrated to the CNC incorporating Hypertherm cutting process expertise at the touch of a button. Built in cut charts provide all parameters to the plasma system and THC reducing job setup time and operator errors while increasing productivity.
With Sensor THC, performance advantages are achievable without operator input, eliminating the need for extensive training and allowing you to get the best performance across any shift with any operator at any location.
The operational logic is located inside the CNC providing one simple location for the complete job setup
Use of Hypertherm's embedded process expertise through built in cut charts or part program process codes
Sensor THC supports the use of custom lifters for custom performance and allowing support for unique applications such as plasma bevel, tube and pipe and waterjet
Remote Diagnostics via the internet through the Remote Help on the CNC
Enables SureCut Technology features such as TrueHole® , TrueBevel™ and Rapid Part™
Simple, reliable operation
Complete built-in test for easy hook-up, system test, and configuration
Built in user-programmable process control parameters for initial height sense, plasma arc volts, torch height Disable, automatic kerf crossing detection, skip IHS, and IHS offset
Automatic retry on arc transfer error
High-performance features
Arc voltage range 50-300 VDC in 0.5 volt increments
Initial height sense can be done with ohmic contact or position error stall detection
Manual or full automatic height control
Auto Arc Voltage Set
Automatic preflow during IHS
Support for arc style marking torches
Complete servo loop adjustments, including proportional, integral, derivative, and feed-forward gains
Higher productivity
Rapid Part™ technology minimizes cut-to-cut cycle time – for a dramatic increase in parts per hour
Automated Initial Height Sense (IHS) minimizes the time for the torch to find the plate without risking damage; IHS is automatically skipped where possible based on part geometry and plate characteristics
Lower operating costs
Optimal consumable life and superior cut quality through arc voltage sampling and control
Extremely robust mechanics ensure highest reliability
Number of consumable starts with < 0,25 mm (0.010″) deviation from proper cut height without operator intervention (130 A) 12 mm (1/2″) mild steel (see chart)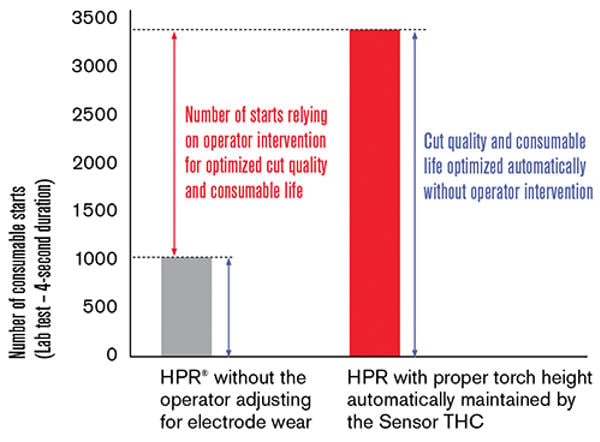 Improved cut quality and consumable life
Traditional torch height controls require operators to periodically adjust arc voltage to ensure proper cut height. Using Hypertherm's proprietary techniques, the Sensor THC continuously samples arc voltage and automatically adjusts arc voltage for proper torch height over the life of the consumables without requiring operator input.
Optimal consumable life and superior cut quality are achieved through automatic arc voltage sampling and position control.
Specifications
Dimensions
127 mm (5.0″) X 152 mm (5.9″) X 526.5 mm (20.73″)
Lifter stroke length
241 mm (9.4″)
Weight
11.27 kg (24.85 lb) without breakaway and torch block
Motor
OEM Supplied – 60 mm (2.36 in.) flange with a 70 mm (2.756 in.) bolt circle diameter
Maximum lift capacity rating
11.4 kg (25 lbs)
Maximum speed rating
15,200 mm/min (600 in/min)
Communication protocol
Discrete wiring to motor and I/O
EtherCat to the HPR plasma system
Humidity
95% RH
Operating environment
-10° C to + 40° C ambient (14° F to 104° F ambient)
Optional torch mount / breakaway assembly
11.4 kg (25 lbs) magnetic (recommended)
4.5 kg (10 lbs) magnetic
Torch mounting block options include 51 mm (2″), 44 mm (1-3/4″) and 35 mm (1-3/8″)
Alignment laser pointer
Included as standard
Table types
Downdraft and water table