In stock
Powermax 30XP plasma system Hypertherm
The Powermax30® XP is a highly portable plasma cutter designed to handle a wide range of jobs. A unique "two-in-one" design provides high-power capability for thick metal cutting, as well as FineCut® consumables for detailed, thin metal cutting. In addition to cutting any electrically conductive metal, such as mild steel, stainless steel, or aluminum, this 30-amp plasma cutter can also gouge metal. The Powermax30 XP boasts dual-voltage capabilities. In addition to 240 V, you can plug it into a standard household socket and use as a 120 V plasma cutter.
Benefits

Specifications

Operating data

Resources
Benefits
Easy to use
System includes everything you need to get you cutting quickly and easily
Small size and light weight let you take the Powermax30 XP just about anywhere
Plug into any 120 or 240 V power (convenient Auto-Voltage™ technology and plug adapters included)

---
Superior performance in a compact package
Fast cutting speeds and excellent cut quality let you finish jobs quicker, with fewer secondary operations
Built to withstand heavy-duty use in the most demanding environments
Relative cut performance on mild steel (chart)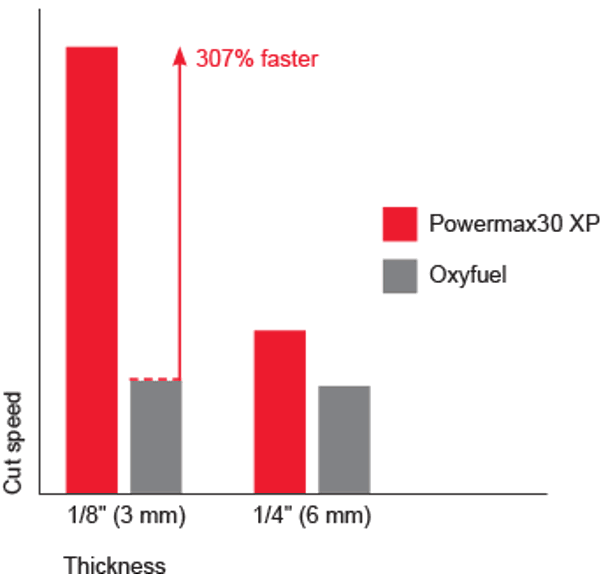 ---
 "Two-in-one" design for maximum versatility
High-power cutting on thick metal
FineCut consumables enable high quality cuts on thin metal, leaving a clean edge and a narrow kerf
Specifications
Input voltages
120-240 V, 1-PH, 50/60 Hz
Input current @ 3.8 kW
120-240 V, 1-PH, 25-18.8 A
Output current
15-30 A
Rated output voltage
125 VDC
Duty cycle @ 40°C (104°F)
35%, 240 V
20%, 120 V
Open circuit voltage (OCV)
256 VDC
Dimensions with handles
356 mm (14.0″) D; 168 mm (6.6″) W; 305 mm (12.0″) H
Weight w/ 4,5 m (15′) torch
CSA: 9.7 kg (21.4 lbs)
CE, CCC: 9.5 kg (21 lbs)
Gas Supply
Clean, dry, oil-free air or nitrogen
Recommended gas inlet
flow rate / pressure
113.3 l/min (4 scfm) at 5.5 bar (80 psi)
Input power cable length
3 m (10′)
Power supply type
Inverter – IGBT
Engine drive requirement
5.5 kW for full 30 A output
Certifications
CSA-certified for use in the Americas and Asia, except China
CE, C-Tick, CU/GOST, Ukr, and Serbian — for use in Europe, Australia, Belarus, Kazakhstan, Russia, Serbia, Ukraine, and other countries where accepted.
CCC for use in China.
Warranty
Power supplies have a 3-year warranty and torches a 1-year warranty.
Operating data
Capacity
Thickness
Cut speed
Cutting
Recommended
10 mm (3/8″)
500 mm/min (20 ipm)
12 mm (1/2″)
250 mm/min (10 ipm)
Severance
16 mm (5/8″)
125 mm/min (5 ipm)
Cutting with 120 V input power
Use FineCut nozzle and deflector for cutting at 120 V input power. When operating at the maximum recommended output of 25 A, the cut capacities are:
6 mm (1/4″) at 482 mm/min (19 ipm)
10 mm (3/8″) at 203 mm/min (8 ipm)
12 mm (1/2″) at 76 mm/min (3 ipm)