LF3015MB COIL FIBER LASER CUTTING MACHINE
LF3015MB COIL FIBER LASER CUTTING MACHINE
Unwind Section
The uncoiler unwinds the roll material, and the width of the loaded coil material is 100-1300mm; the load is 10000kg
Leveling Feeder
leveling feeder leveling the material, adjustment accuracy of correction amount: ±0.01mm
The bed adopts a gantry dual-drive structure,imported screw rods and linear guide rails,stable transmission,high precision,and online rotation of the hobbing,which ensures high efficiency,high quality,time and labor saving of material processing ,improve material utilization.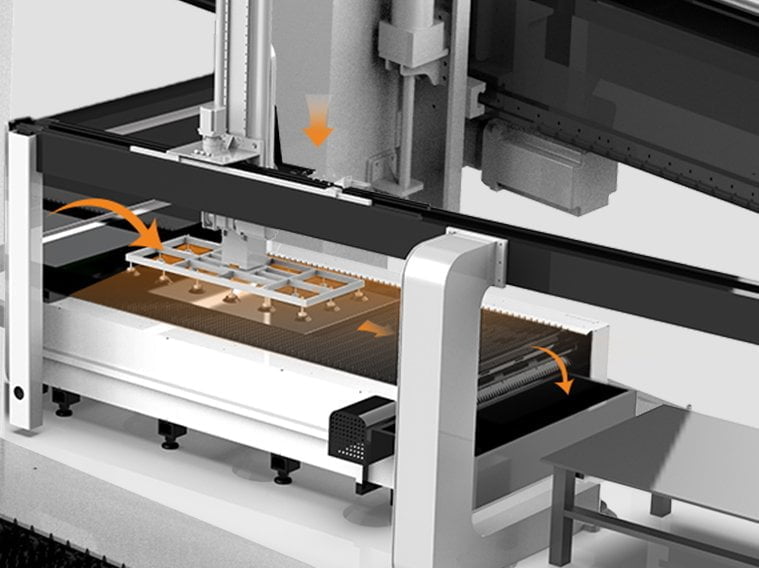 Automatic unloading material
Hobbing type conveying structure,vacuum chuck automatic unloading the unloading the finish product,automatic stacking of finished products,saving labor and improving efficiency.
Improve material utilization
One-key processing of any material,automatic typesetting,reducing residual material,realizing the net cutting of the coil material,and improving the utilization rate of the plate.
Arbitrary drawing cutting,no need to open mold,reduce production cost
Industry Applications
LF3015MB automatic coil laser cutting machine is widely used in the thin-sheet cutting industry, such as the processing and manufacturing of stainless steel kitchenware/storage cabinets and other cabinets. It is a fiber laser cutting machine that is closely related to our daily life.
| | |
| --- | --- |
| Machine Model | LF3015MB |
| laser power | 1000W 2000W 3000W (optional) |
| Dimensions | 15980*4850*2650mm |
| working area | 3000mm*1500mm |
| Loading Ceiling Width | 100mm-1300mm |
| Loading Weight | 10000Kg |
| Repeat positioning accuracy | ±0.02mm |
| Max speed | 120m/min |
| Max acceleration | 1.5G |
| Voltage and frequency | 380V 50Hz/60Hz |