In stock
XPR300 plasma cutting system Hypertherm
The XPR300™ represents the most significant advance in mechanized plasma cutting technology, ever. This next generation system redefines what plasma can do by expanding its capabilities and opportunities in ways never before possible. With unmatched X-Definition® cut quality on mild steel, stainless steel and aluminum, the XPR300 increases cut speed, dramatically improves productivity and slashes operating costs. New ease-of-use features and engineered system optimization make the XPR300 easier to run with minimal operator intervention, while also ensuring optimal performance and unmatched reliability.
Benefits

Gas-connect console gases/fluids

Specifications

Operating data

Resources
Benefits
Industry-leading X-Definition cut quality
The XPR advances HyDefinition® cut quality by blending new technology with refined processes for next generation, X-Definition™ cutting on mild steel, stainless steel and aluminum.
Consistent ISO range 2 results on thin mild steel
Extended ISO range 3 cut quality results compared with earlier plasma technology
Superior stainless steel cut quality across all thickness ranges
Superior results on aluminum using Vented Water Injection™ (VWI)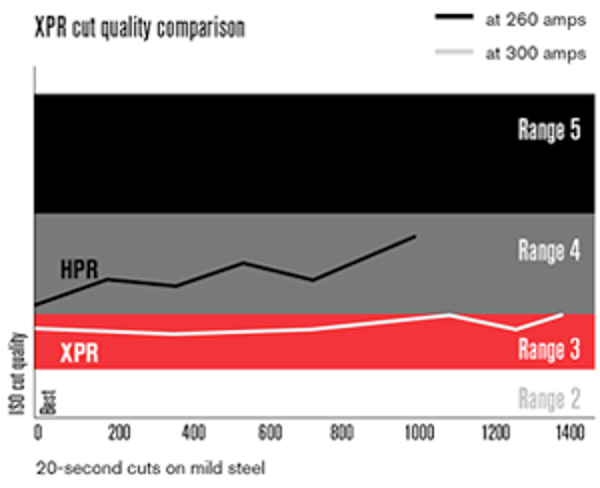 ---
Optimized productivity and reduced operating costs
Significantly reduced operating costs than previous generation technology
Increased cut speeds on thicker materials
Dramatic improvement in consumable life on mild steel applications
Thicker piercing capability than competitive plasma systems
---
Engineered system optimization
XPR is engineered to deliver the highest quality cuts and optimal system performance automatically.  Advanced power supply technology delivers highly responsive, rapid system feedback, and automatically intervenes to eliminate events that negatively impact system efficiency and consumable life.
XPR's Arc response technologyTM provides automatic torch and ramp-down error protection. Sensors in the power supply deliver refined diagnostic codes and significantly enhanced system monitoring information that reduces troubleshooting time and provides proactive system maintenance data for improved system optimization.
Increases consumable life 3 times that of competitor's systems by eliminating the impact of ramp down errors
Reduces the impact of catastrophic electrode blowouts which can damage the torch at high current levels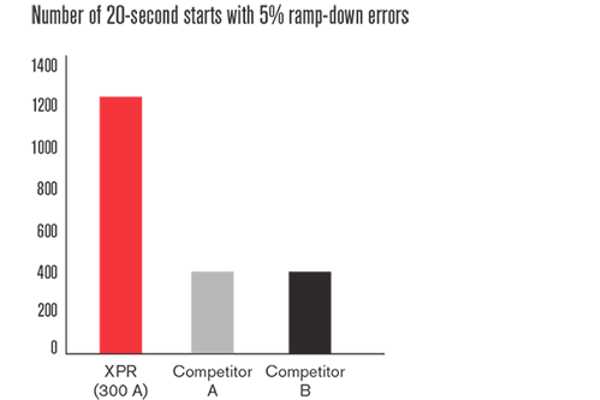 ---
Ease of use
Intuitive operation and automatic monitoring redefine ease of use
Full control of all functions and settings via the CNC
Automatic system monitoring and specific troubleshooting codes for improved maintenance and service prompts
EasyConnect™ torch lead and one hand torch-to-receptacle connection for fast and easy change-outs
QuickLock™ electrode for easy consumable replacement
WiFi in power supply can connect to mobile devices and LAN for multiple system monitoring and service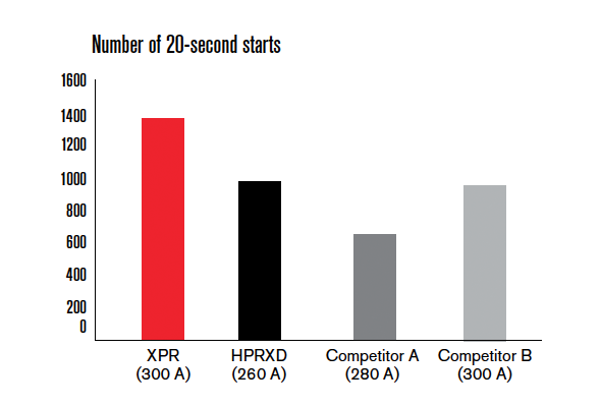 ---
Advanced process control and delivery
Three console options – Core™, Vented Water Injection™ (VWI) and OptiMix™ – offer unmatched mild steel cut quality with each console delivering successively enhanced cutting capabilities on stainless steel and aluminum. All consoles can be fully controlled through the CNC for high productivity and ease of use.
Gas-connect console gases/fluids
| | Core | Vented Water Injection (VWI) | OptiMix |
| --- | --- | --- | --- |
| O2/N2/Air | X | X | X |
| F5/Ar/H2O | | X | X |
| H2-N2-Ar mixing | | | X |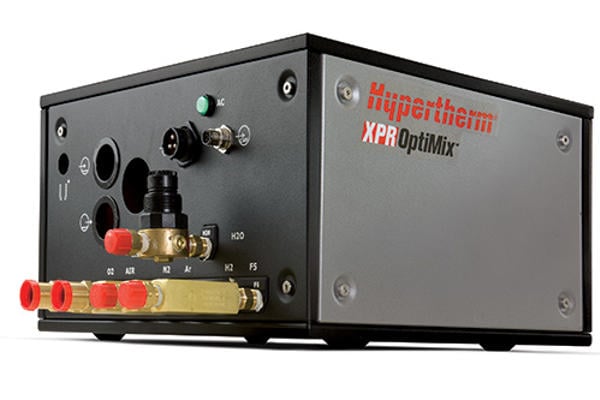 ---
Better for the environment, too!
The XPR300 system reduces consumable use, energy and the carbon footprint.
64% less consumable copper material is used per foot of cut
System is 99.5% recyclable and packaging is 100% recyclable
The carbon impact of magnetics is 77% lower than its predecessor
62% higher power-to-weight ratio and 14% faster cuts
Specifications
| | |
| --- | --- |
| Maximum open-circuit voltage (U0) | 360 VDC |
| Maximum output current | 300 A |
| Maximum output power | 66.5 kW |
| Output voltage | 50 VDC–210 VDC |
| 100% duty arc voltage | 210 V |
| Duty cycle rating | 100% at 66.5 kW, 40° C (104° F) |
| Operational ambient temperature range | -10° C–40° C (14° F–104° F) |
| Power factor | 0.98 at 66.5 kW |
| Cooling | Forced air (Class F) |
| Insulation | Class H |
| EMC emissions classification (CE models only) | Class A |
| Lift points | Top lift eye weight rating 680 kg (1,500 lb.) |
Operating data
mm
inches
Pierce capacity
Mild steel (argon-assist)
50
2
Mild steel (standard O2)
45
1–3/4
Stainless steel
38
1–1/2
Aluminum
38
1–1/2
Severance capacity
Mild steel
80
3–1/8
Stainless steel
75
3
Aluminum
50
2
This does not represent a complete list of processes or thicknesses that are available.
Console
Cutting gases
Current (A)
Cut chart thickness (mm)
Approximate cutting speed (mm/min)
Cut chart thickness (in.)
Approximate cutting speed (ipm)
Mild steel
CoreTM, VWI, and OptiMixTM
O2 plasma
30
0.5
5348
0.018″
215
O2 shield
3
1153
0.135″
40
5
726
3/16″
30
O2 plasma
50
3
3820
0.105″
155
Air shield
5
2322
3/16″
95
8
1369
5/16″
55
O2 plasma
80
3
5582
0.105″
225
Air shield
6
3048
1/4″
110
12
1405
1/2″
55
O2 plasma
130
3
6502
0.135″
240
Air shield
10
2680
3/8″
110
38
256
1-1/2″
10
O2 plasma
170
6
5080
1/4″
200
Air shield
12
3061
1/2″
115
25
1175
1″
45
50
267
2″
10
O2 plasma
300
12
3940
1/2″
155
Air shield
25
1950
1″
75
50
560
2″
21
80
165
3″
7
Stainless steel
Core, VWI, and OptiMix
N2 plasma
40
0.8
6100
0.036″
240
N2 shield
3
2683
0.105″
120
6
918
1/4″
32
VWI and OptiMix
F5 plasma
80
3
4248
0.135
140
N2 shield
6
1916
1/4″
70
12
864
1/2″
34
OptiMix
H2-Ar-N2 plasma
170
10
1975
3/8″
80
N2 shield
12
1735
1/2″
65
38
256
1-1/2″
10
H2-Ar-N2 plasma
300
12
2038
1/2″
80
N2 shield
25
1040
1″
40
50
387
2″
17
75
162
3″
6
VWI and OptiMix
N2 plasma
300
12
2159
1/2″
85
H2O shield
25
1302
1″
50
50
403
2″
15
Aluminum
Core, VWI, and OptiMix
Air plasma
40
1.5
4799
0.036
240
Air shield
3
2596
1/8″
85
6
911
1/4″
32
VWI and OptiMix
N2 plasma
80
3
3820
1/8″
140
H2O shield
6
2203
1/4″
80
10
956
1/2″
28
N2 plasma
130
6
2413
1/4″
95
H2O shield
10
1702
3/8″
70
N2
300
20
870
3/4″
35
12
2286
1/2″
90
H2O shield
25
1302
1″
50
50
524
2″
20
OptiMix
H2-Ar-N2 plasma
300
12
3810
1/2″
150
N2 shield
25
2056
1″
80
50
391
2″
15