In stock
EDGE Connect CNC system Hypertherm
EDGE® Connect, Hypertherm's newest Computer Numeric Control (CNC) platform, delivers unmatched reliability, powerful embedded capabilities, and a high level of customizability. Based on our proprietary, industry-leading Phoenix® CNC platform, the system offers new, advanced software features – including ProNest® CNC automatic nesting delivering SureCut™ technology – along with enhanced hardware.
Description

System information

Customizable performance

Point-of-use configuration

OEM customization

Quick, easy installation

Flexible configurations

Resources
Description
For easy set up, changes, and upgrades, EDGE Connect CNCs can be configured in the field with software specific to the cutting machine application. The easy-to-use system combines advanced cutting performance with an intuitive graphical interface, and supports plasma, oxyfuel, and waterjet applications.
With Patented CutPro® Wizard, even new operators can be cutting production parts in less than five minutes
On-screen Software Operator's Console (Soft OpCon) allows easy setup and operation of cutting station and manual motion
Integrated communications with plasma and torch height control systems deliver automated and expert control using installed factory or custom cut charts
Custom cut charts can be created and controlled in the part program or made available to the CutPro Wizard
EDGE Connect runs on the Windows® 10 Enterprise operating system
System information
Benefits
ProNest® CNC nesting
Easy-to-use touch screen interface, machine operators can create nested part programs and obtain optimal cut quality without extensive training
Directly imports DXF, DWG, CAM, DGN, and CNC simple shapes.
Embedded SureCut™ technology maximizes performance through embedded expertise. Patented True Hole® technology with process verification ensures all operator variables are properly set
Pattern Array Nesting for a single part with process optimization included
Optional True Shape Nesting module for multiple parts
Customizable performance
Designed to accommodate a broad range of applications, such as plasma (including cutting, marking, bevel, pipe/tube), oxyfuel (including bevel), and waterjet
Available in 2 hardware configurations to best align with cutting machine manufacturer needs
Optional Sensor™ plasma torch height control mechanics (Sensor THC)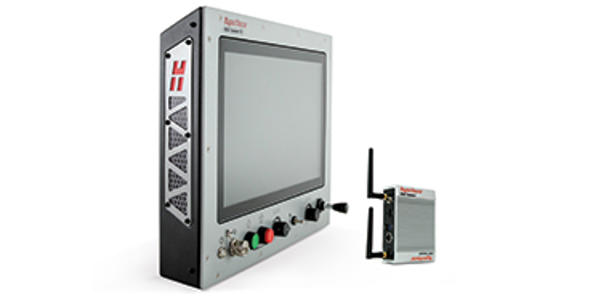 Point-of-use configuration
Basic and advanced process control for plasma, oxyfuel, and waterjet
Integrated Sensor THC and bevel
ProNest CNC True Shape Nesting
PLC Connect™ (Programmable Logic Controller)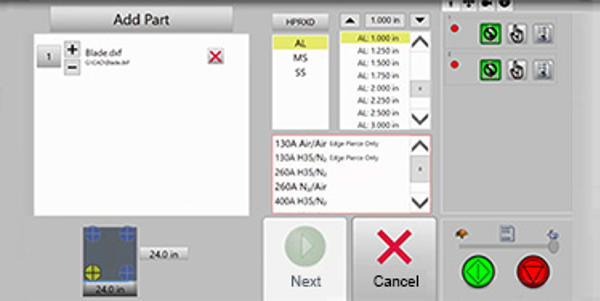 OEM customization
PLC Connect is embedded in the CNC for additional capabilities tied to I/O signals, position, cutting state, and error conditions; IEC61131 compliant
OEM customization of the on-screen software operator's console for control of unique system tools and features though use of a C# Application Program Interface (API)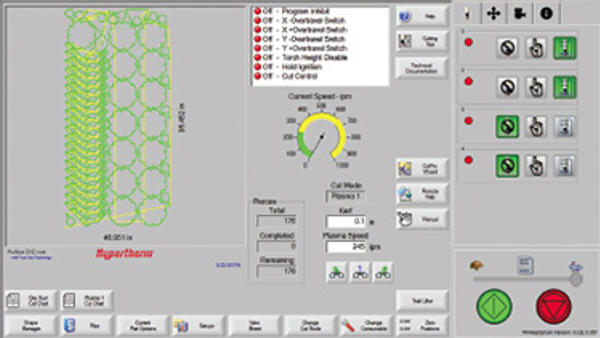 Quick, easy installation
Requires only a single EtherCAT® cable for all motion and I/O signals from the CNC, dramatically simplifying system wiring and reducing installation time
Communication to Hypertherm's HyPerformance® plasma systems is accomplished through EtherCAT connectivity directly to the cutting system.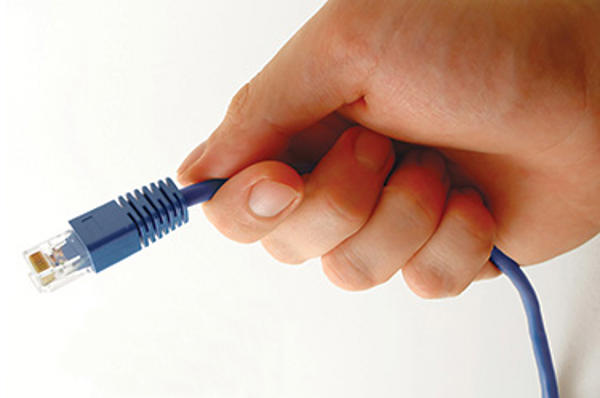 Flexible configurations
| | |
| --- | --- |
| EDGE Connect | The smallest of the CNC configurations, the EDGE Connect offers the greatest flexibility for machine integration. Cutting machine OEMs provide the touch screen and any operator switches. |
| EDGE Connect TC | Integrates the EDGE Connect CNC into an industrial enclosure with a 495 mm (19.5″) touchscreen. A hardware operator's console with switches for start, stop, program and manual speed control, raise/lower torch and joystick is included for easy operation. |
Resources